Natural Resources
Crude Oil Rises on Outlook U.S. Economic Recovery Will Boost Fuel Demand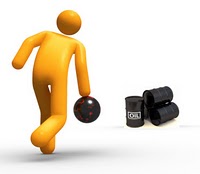 Crude oil rose above $75 a barrel in New York on speculation that economic growth in the U.S., the world's biggest energy consumer, will sustain a global recovery in fuel demand. Oil climbed after Federal Reserve Bank of Chicago President Charles Evans said yesterday the U.S. economic recovery will continue amid uncertainties prompted by Europe's debt crisis. About 28 million people were expected to be on road trips in the U.S. during the three-day Memorial Day weekend, a jump of 5.8 percent from a year earlier and the first increase since 2005, according to AAA, the country's biggest motoring organization.
"There is more of an optimistic feel toward the economy starting to creep in, particularly in the U.S.," said Jonathan Barratt, managing director at Commodity Broking Services Pty in Sydney. "People are starting to buy up, or looking to buy, because some of these commodities are cheap. Summer drive time is always a key."
Crude oil for July delivery gained as much as $1.20, or 1.6 percent, to $75.17 a barrel, in electronic trading on the New York Mercantile Exchange. It was at $74.44 at 11:29 a.m. Sydney time. The contract declined 58 cents, or 0.8 percent, to settle at $73.97 on May 28. Futures dropped 13.6 percent in May, the biggest monthly drop since December 2008. Floor trading was closed Monday for the Memorial Day holiday in the U.S. and electronic trades will be booked with today's for settlement purposes…..Read the entire article.
Just click here for your FREE trend analysis of crude oil ETF USO
Share