Opinion
I Just Joined Foursquare But I Don't Know Why, Actually Gary Vaynerchuk Told Me To
My wife thinks that I am crazy. I just joined Four Square because Gary Vaynerchuk told me to on his radio show on Sirius satellite radio. Did you know that he had his first show on Sirius/XM last Thursday? It was awesome! It is one hour of wine talk and one hour of Gary talking about technology stuff. I can put up with the hour of wine talk although I have no clue what he is talking about. But, the second hour is incredible! You need to tune into his show on Thursdays at 10pm on Sirius channel 108.
I Joined Foursquare Because Gary Vaynerchuk Told Me To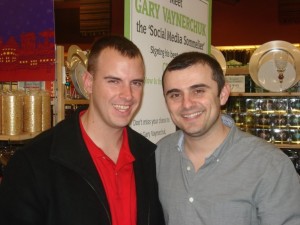 I have been seeing a few of my friends checking in at various places on Facebook, but I have not really understood the fascination with the service. But, then again, I didn't understand Twitter when it started either. Gary Vaynerchuk said that I needed to be an early adopter of this technology, and he is right. He's always right about technology ideas. So, be prepared to see me checking in around town and posting it to Twitter and Facebook. I'll try and wait until I go somewhere cool to check in though. I was embarrassed that my first "check in" was at McDonald's while I was getting my beloved Mocha Latte.
What Is Foursquare?
Foursquare is an application for your phone, iPhone, Android, or Blackberry, that makes cities around you easier and more interesting to explore. You can use the service as a way to find where your friends are hanging out, what companies and services people recommend, etc. With Foursquare, users "check in" to a place when they are there which can tell their friends via Twitter, Facebook, or the Foursquare website or app where they are. You can even use it to track the history of where you have been and who you were there with.
Cool Things Are Coming To Foursquare
Eventually, I am going to get a discount or a free Mocha Latte when I check in at McDonalds through Foursquare. When you go to the "Tip" screen of the app on your phone, you can see people's recommendations for different venues. This is especially awesome for finding new restaurants or receiving discounts at places that you have checked in to
Pages: 1 2
Tags: facebook, mocha latte, technology ideas
Related Articles: